CONSULTATIONS
All consultations are done either over the telephone (717) 566-0922 eastern time, or email Info@PeaceableKingdomAC.com or by appointment (emergencies may be honored immediately). Morning and evening consultations are available Tuesday, Wednesday and Thursday. Gift Certificates are also available.
Preparing for the Consultation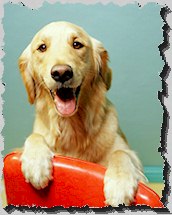 I will request some basic information about your animal companion(s) prior to the call: their NAME, AGE, GENDER, BREED OR PHYSICAL DESCRIPTION AND IF THEY ARE LIVING OR IN SPIRIT.

When the appointment is set, you will be asked to write down a list of questions you want to ask your animal, or issues that you would like to discuss. This helps you get clear about the situation and ensures that you don't forget anything important and all issues are covered.
If your animal is having a health problem, be as explicit as possible with your questions. You may want to ask if the pain is better or worse after treatment, is the medication helping, where does it hurt, etc. The more specific your questions, the more precise the answers. Animals are a lot like people - if you ask them how they are, often they'll just say fine. If you ask them about their knee, they'll tell you how it hurts when they go up the stairs.
Behavior problems have special considerations. I ask people to think about the possible rewards and/or consequences that may motivate their animal to change their behavior. It's important to think about this ahead of time, so that when we are communicating with your animal you know what you are willing to do or not do. Negotiations of this sort are not unusual.
At the appointed time, I call you and I telepathically connect with your animal. Once this link is made, you will ask a question, I will get quiet and talk to your animal, then tell you what it says. We go back and forth like that until you have the information you need or we have worked out solutions to problems. The process is very simple and easy.
---
Peaceable Kingdom Animal Communications
PO Box 265
Hershey, PA 17033
(717) 566-0922
info@PeaceableKingdomAC.com
All information is copyrighted by Peaceable Kingdom and/or it's respective owners and reproduced with permission.
Web site design by Web Tek Computer Company, Ephrata PA.