ABOUT CINDY WENGER

Cindy has always had a close affinity, love and respect for animals and has been communicating with them all her life. After the sudden deaths of two of her dogs; she decided to pursue connecting with her animal companions on a higher and deeper level. Cindy has completed advanced studies for animal communication techniques and has enhanced her skills under the direction of Penelope Smith and Anita Curtis; two internationally known animal communicators.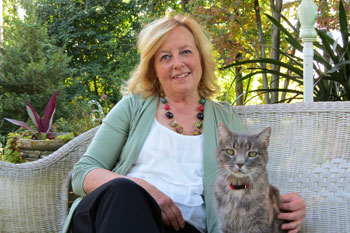 Cindy was featured in the Woman's Day Magazine article -
12 Pet-Pampering Procedures; she also serves on the Board of Directors for Unlimited Rainbow Animal Haven, Dauphin County, PA (URAH) ; and is a member of Women in the Pet Industry.

Cindy is also is an Ordained Minister, Tera-Mai™ Reiki/Seichem Master, a Certified Master Teacher of Magnified Healing, trained in Healing Touch for Animals with Carol Komitor, and a flower essence practitioner and offers those techniques/modalities for helping animals as well. Cindy has also completed coursework and has received her certification diploma in Animal Psychology. Cindy recently received her Certificate for completing the Science & Art of Herbalism, an intensive herbal program with Rosemary Gladstar (at Sage Mountain Herbal Retreat Center & Botanical Sanctuary, in the Green Mountains of Vermont) in the didactic, therapeutic, laboratory and fieldwork of Herbalism. Shortly after receiving her certification she formulated her own line of 100% USDA Certified Organic herbal tinctures for pets, which became available June, 2010.. You can purchase Peaceable Kingdom Essentials product line at www.HerbsForYourPets.com

In addition to her animal endeavor, she has been a part of the legal community for almost 2 decades as a Paralegal and attends annual classes on Animal Law given by the Pennsylvania Bar Institute. Cindy has been featured in articles in the Main Line Times, News of Delaware County, and the Harrisburg Patriot News, The Hummelstown Sun and has appeared on the television show 'Our Town' on WGCB-Red Lion, PA and has also been featured on BBC Radio and the Internet radio show 'The Soft Edge' with host C J Hoffman. She is also a featured guest on the "DeLuca in the Morning show" WDJQ - Q92 FM, Canton, OH. Cindy is listed on Penelope Smith's 'International Directory of Animal Communicators'. Cindy was also a contributor to Penelope Smith's book Animals in Spirit (January 2008). She is a member/supporter of the Humane Society of the United States, ASPCA, Blue Grass Shih Tzu Rescue-KY, various Sheltie/Collie rescues in PA, PAWS, Animal Law section of the Pennsylvania Bar Institute and The Ocean Conservancy.

All consultations are done either over the telephone (717) 566-0922 eastern time, or email: Info@PeaceableKingdomAC.com by appointment (emergencies may be honored immediately). Morning, afternoon and evening consultations are available weekdays. Gift Certificates are also available.

---
Peaceable Kingdom Animal Communications
PO Box 265
Hershey, PA 17033
(717) 566-0922
info@PeaceableKingdomAC.com
All information is copyrighted by Peaceable Kingdom and/or it's respective owners and reproduced with permission.
Web site design by Web Tek Computer Company, Ephrata PA.